I'd be in a constant state of bliss. Of course, you'd have to bring me snacks, since I'd simply be surviving off floral print blouses, handcrafted soaps, and lushly colorful voile – which I do not suggest you try and consume. A feast for the eyes and the eyes only, my friends.
But, really… think about the parties we could have! Any sort of party for that matter! We'd be ready for anything. You could come over, drink some coffee out of this, lounge around in these, bake cookies wearing this, wash away the morning behind this (I know there is no water, ok? Just roll with me here…), slip into this gorgeous little thing, mist yourself with this bad boy, then snag this fun little guy to keep your secrets in. (Listen – even though you're not going anywhere, the handbag is a necessity. You're at Anthro. Have a handbag or three.)
Ahhhhh…. daydreams. Too bad it's so ridiculously out of my budget league. I've purchased two things from Anthropologie in my life and they are my prized possession. Enter, Stefan and Esmerelda:
Yes, I named my teacups. And it is not okay for you to laugh at me. You know you've named inanimate objects, too.
You have, though, right? I'm not really alone in this mess of giving everything a personality am I? Please tell me you have something named Jacqueline or Pedro or Madeline. Please?
I'm hopeless. Well – at least I have cute teacups.
Seriously, though… don't you just love visiting Anthropologie? Do you end up gawking and drooling all over the pretty things like me? I stand there, astonished that human hands can create these lovelies, and have to remind myself to be a lady. "Close your mouth, Krystina. You look strange."
Look at this dishtowel. I mean, really. This belongs in my life.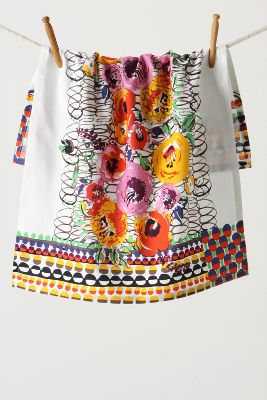 Or this gorgeous lacy jacket…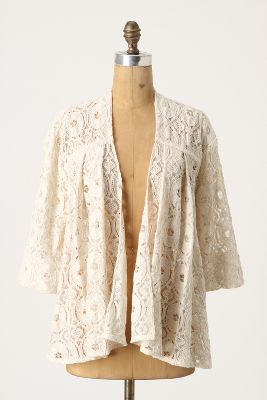 And this probably belongs somewhere in my home…
Accompanied by this guy…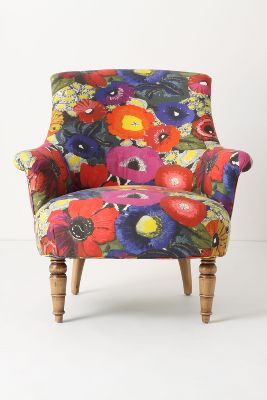 Good gracious – I could post Anthro pictures for days. The salivating never stops.
Give yourself a few hours and go visit their store. Or their site . And let yourself dream wildly.
Side note – My window air unit smells faintly of wet dog. I do not have a dog. This is very unsexy.